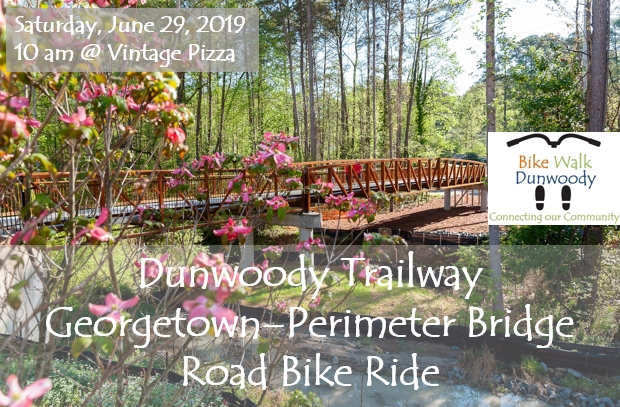 Our original date in April was cancelled due to weather. Let's try this again! Saturday, June 29th 10 am prompt departure, Vintage Pizza in the Shops of Dunwoody
Ride with Joe and let's celebrate another "tooth" in the network that connects the Georgetown residential to the Perimeter business districts! Join your Dunwoody & Perimeter area friends on this weekend morning for a celebratory 9.5 mile tour on bikes across our newest Trailway bridge!

We'll roll at a very easy & comfortable speed, heading over to Brook Run, taking the trail to Chamblee Dunwoody, cross the bridge and then loop back up to the Village. If you're looking for a cardio workout and to blow out those quads, this ain't gonna be it. We'll periodically stop along the way to talk about current & future plans for trail and bike facilities, too.

After the ride, grab lunch at Vintage Pizza and stay to provide your feedback on what you'd like the Dunwoody Village to become. That interactive meeting will start at 1 pm and run until 4 pm.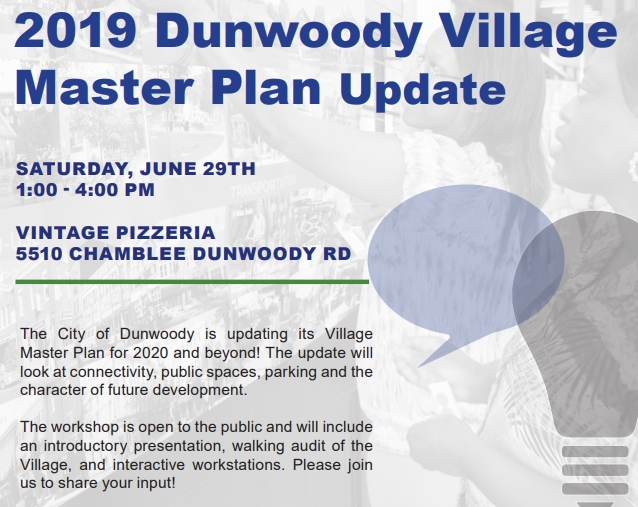 Dunwoody Village Master Plan Update
Saturday, June 29th 1-4 pm
The City of Dunwoody is updating its Village Master Plan for 2020 and beyond! The update will look at connectivity, public spaces, parking and the character of future development. The workshop is open to the public and will include an introductory presentation for the first 45 minutes, a walking audit of the Village for the second hour, and finish with a series of exercises to help set the priorities.

Please join us to share your input!

City Calendar event click here
RIDE DETAILS
Saturday, June 29th 
9:45 am: Meet
10:00 am: Prompt Departure
Vintage Pizza (The Shops of Dunwoody)
 5510 Chamblee Dunwoody Rd, Dunwoody, GA 30338  

Although we will mostly choose lower-traffic streets and bike lanes, riders must be comfortable with riding on roads, and BE AT LEAST 18 YEARS OLD.* We'll all ride together, and guarantee that we'll not leave anyone behind, or riding alone.
Helmets required. Bring a full water bottle. Bikes should have multiple gears to accommodate riding uphill. — You don't want to use a heavy bike with only a couple of speeds designed to ride at the beach.
Register (Free) HERE
Facebook Event HERE
Disclaimer: Bicycling activities have inherent risks. Please exercise caution. If you participate in this ride, you agree to hold anyone affiliated with Bike Walk Dunwoody, ride leaders, and organizers of the ride harmless and indemnify them in case of injury or harm to your equipment.
* To request an age minimum exception, send an email with the ages, riding experience, accompanying adult and details to: [email protected]