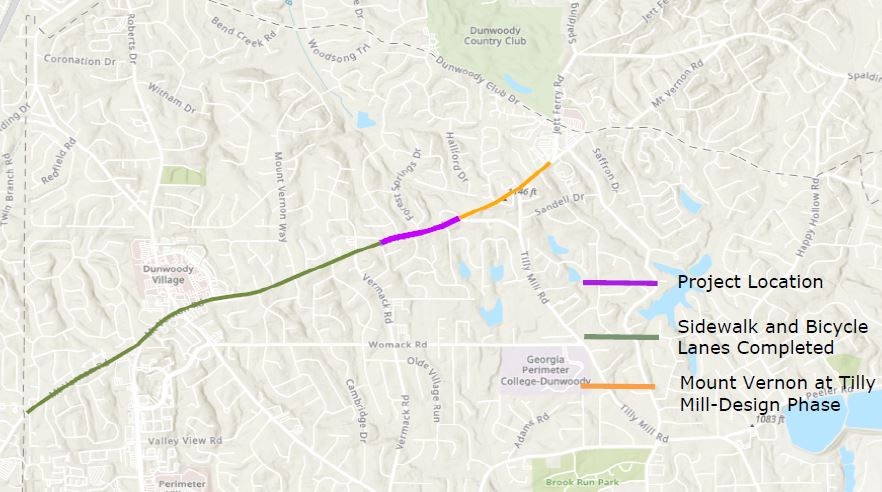 ITEM 1 – The City of Dunwoody is collecting input on options for improvements to the Mt. Vernon Road corridor from Corners Drive to Mount Vernon Place through Friday, Oct 23rd.
ITEM 2 – Dunwoody has submitted an application for Bicycle Friendly Community certification. A League of American Cyclists survey on cyclists' experiences is open through Sunday, Nov 15th.
Input Opportunity #1 – The City of Dunwoody is collecting input on options for improvements to the Mt. Vernon Road corridor from Corners Drive to Mount Vernon Place through Friday, October 23rd. To date, the City has paved and completed bicycle and pedestrian improvements from the western city limit near Lisa Lane to Corners Drive, and is currently designing improvements for the segments on either side of Tilly Mill. Three concept plans are presented and all include a shared-use path for bicycles and pedestrians on the north side of road and a new sidewalk on the south side. The differences in the plans involve how the existing roadway is configured for traffic.
The City has put significant thought into developing options for Community evaluation. Some thoughts to consider as you develop comments and provide your input on the short survey:
Would you like to see pedestrian refuge islands included at both planned crosswalks?
Would you prefer inclusion of a bike lane on the south side of Mt. Vernon to allow eastbound cyclists to continue with the flow of traffic, rather than having to cross Mt. Vernon and travel against traffic in the shared-use path.
Will a 2-way center lane along most of the segment allow for higher vehicle speeds and possible illegal passing maneuvers?
Should the City take this opportunity to make the corridor safer for all users now, rather than deferring roadway improvements and thereby requiring significant work at a later date?
Here's some more thoughts on this segment of Mt. Vernon — for a Fourth Option:
If you like any of these, you can enter them as comments on the project, and not be constrained to wanting one of the 3 proposed choices.
• Overarching #1 Priority: Safety for most vulnerable. Focus on traffic calming / slowing speeds, improved pedestrian and bicycle facilities.
• No center turn or left turn lanes at all. We're talking about an hour on weekday mornings is the only time this might even be needed
• No right turn / decel lanes at all.
• Completely eliminate the ¼ mile-long decel / right turn lane on north side from Mt. Vernon Place to Forest Springs

• 6-ft wide sidewalk on southside
• Northside shared use path: 12-ft wide (could go to 10-ft if needed)
• 5-ft wide bike lanes on both sides with 2-ft buffer between cars
• Pedestrian crossing islands at Forest Springs / Stratham Drive and Gramercy Court / Mt. Vernon Place itersection. Do not need to have center / left turn lanes to have ped island) -- will have to adjust the ROW widths to add these two locations. But not for the total project width.

• Trees planted in landscape buffer between sidewalks / shared use path and motor vehicle lanes.
Assumption: All of the 3 provided options posted to the city website use 69-ft max total width. So the attached illustration uses that same width.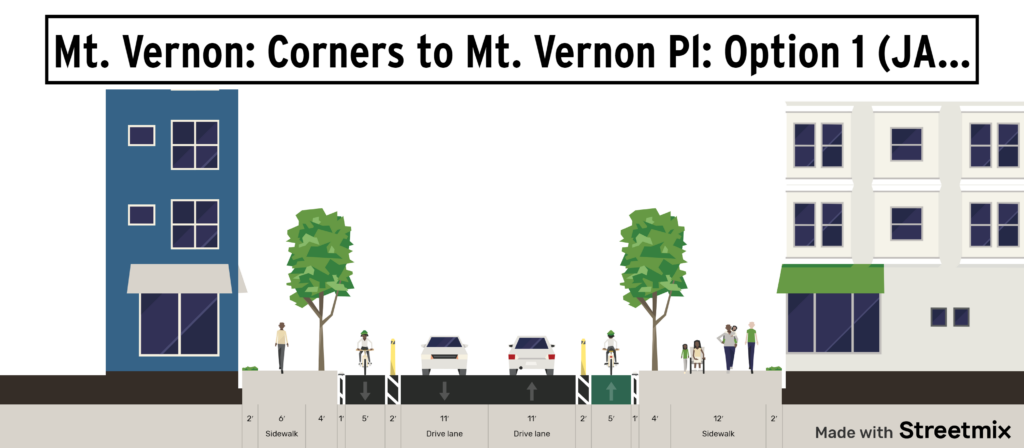 Input Opportunity #2 – Bike-Walk Dunwoody is thrilled to announce that the City has submitted an application for the League of American Cyclists Bicycle Friendly Community certification. Bike-Walk Dunwoody has worked to convince the City to apply for this well-deserved certification for several years. The League is currently reviewing the application and would like to gain a better understanding of local cyclists' experiences in our community. The public survey is available at https://www.surveymonkey.com/r/BFC_Fall20 and will remain open through Sunday, November 15.
The certified Bicycle Friendly Communities in Georgia are Alpharetta, Athens, Atlanta, Carrollton, Columbus, Decatur, Jekyll Island, Milledgeville, Peachtree City, Roswell, Savannah, and Tybee Island. They are all certified Bronze and Dunwoody is striving to attain the first Silver level in the State.
Thank you for your input and for sharing! And remember – those that SPEAK UP get heard; get counted; make a difference.