Thank YOU, Georgia Department of Transportation!!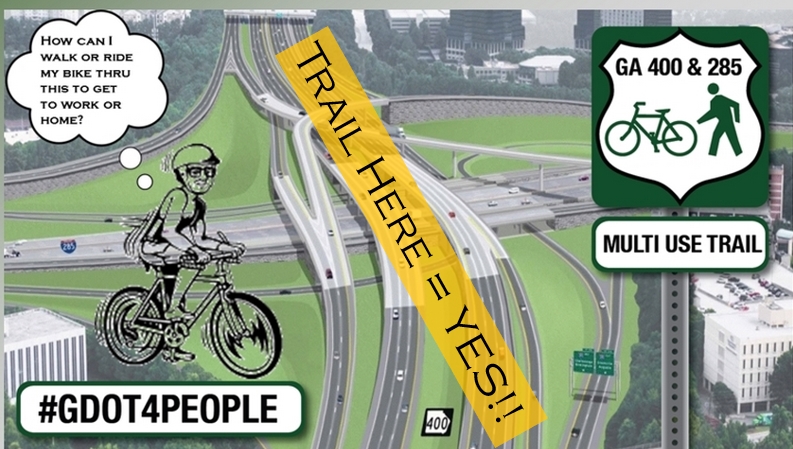 As reported in the Neighbor Newspapers on May 29th,  the Georgia Department of Transportation as agreed to have a trail included along GA-400 through I-285 interchange! Many thanks go to the City of Sandy Springs for committing $1 Million towards the trail. Specific thanks also go to the PATH Foundation, Perimeter CIDs (in support of their Trail Plan), and the Cities of Dunwoody, Brookhaven, Chamblee, Doraville and many civic organizations and the business community for their support.
The Mayor of Sandy Springs, Rusty Paul had this to say about the trail: "We're looking at alternatives to vehicular traffic," Paul said. "How do we move people, other than sitting in their cars? We're looking at all the multi-modal approaches to get people to and from Sandy Springs."
Thank you all for your emails and letters in support.
Next Steps
We're still moving the needle forward.
Our next steps are to get trail access north of 285 along GA-400, and also incorporation of national best practices Complete Streets facilities for on-street segments. Those include a new bridge on Mt. Vernon over 400, and the Abernathy / 400 Diverging Diamond interchange. We are scheduled to meet with GDOT this coming Wednesday to discuss these items, and we'll keep you updated as we progress.
Signed the Petition? Learn More?
If you haven't signed the petition or want to learn more about our specific asks, and other project updates, please click HERE