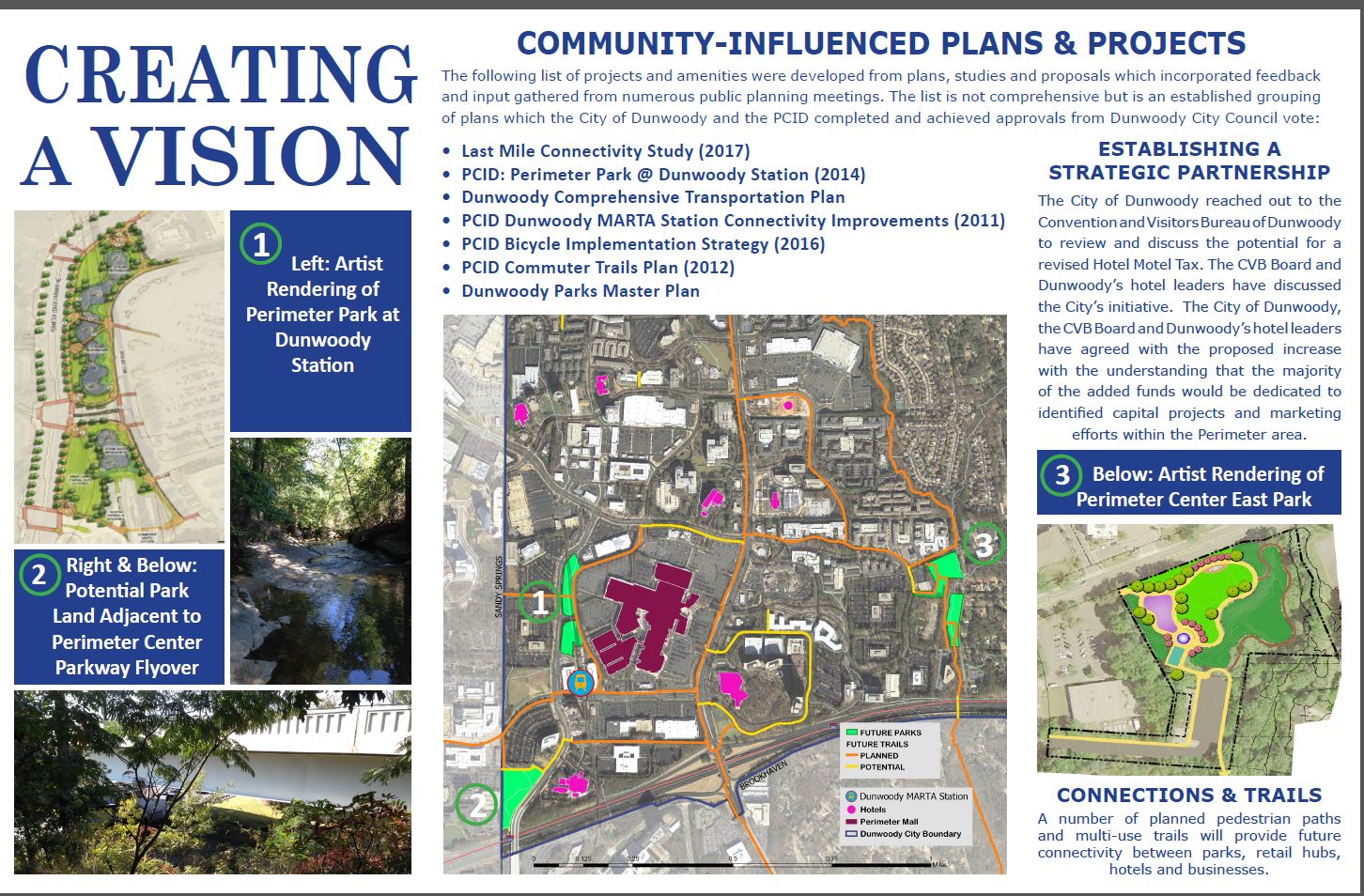 Please sound your voice for funding for trails by attending the public information meeting Wednesday 11/15 at 6 pm. With the passage of HB 564 earlier this year, the City has been granted the authority from the State to increase the existing Hotel Motel Tax from 5% to 8%. The increase would mean an extra $850,000 annually to fund trails and green spaces. City staff is recommending a majority of the new money go toward trails and parks centered in Perimeter Center.
The Hotel Motel Tax Public Information meeting will be held at 6:00 pm on November 15, 2017 at Dunwoody City Hall, 41 Perimeter Center East, Suite 103, Dunwoody, GA 30346.
Key Points
Citywide
Any trail / greenway projects throughout our city limits identified in the current & approved City Master Plans are eligible to be funded with this tax, i.e. the Parks Plan or Transportation Plan.
Raise a Bond to Build Today
Earlier this year, Our neighbors in Brookhaven changed their tax as well, and it's forecasted to generate $650,000 annually. It will then be used by Brookhaven to finance a $9 million loan, or revenue bond, over 20 years at 3.93 percent principal and interest. The revenue stream from the hotel/motel tax will pay for the revenue bond. Revenue bonds don't require a public vote because they don't rely on the full faith and credit of the city. Reference story click here.
Here's the list of priority projects:
•Perimeter Center East Park
•Ashford Dunwoody Trail – Phase I (Hammond Dr. to Perimeter Center West)
•Flyover Bridge Park
•Westside Connector Trail (MARTA Station to Ashford Dunwoody Road)
•Perimeter Park @ Dunwoody MARTA Station – North Phase
•Ashford Dunwoody Trail – Phase II (Perimeter Center West to Mount Vernon Rd.)
•Georgetown to Perimeter Trail(Perimeter Center East Park to Chamblee-Dunwoody Road)
•Highstreet Trail (Central Parkway to Perimeter Center Parkway)
•Perimeter Mall Trail (Hammond Dr. to Perimeter Center West)
•Georgetown Gateway Trail (Georgetown Park to Cotillion Drive)
•Ravinia Trail (Perimeter Center East Park to Ashford-Dunwoody Road)
•Northfork Nancy Creek Trail – Phase I (Perimeter Center East Park to Valley View Road)
•Perimeter Park @ Dunwoody MARTA Station – South Phase I
•Northfork Nancy Creek Trail – Phase II (Valley View Road to Ashford Center Parkway)
•Winters Chapel Road Trail (Dunwoody Club Drive to Peeler Road)
•Cotillion Trail (Chamblee-Dunwoody Road to North Shallowford Road)
•Windwood Hollow Trail (Brook Run Park to Winters Chapel Road)
•Perimeter Park @ Dunwoody MARTA Station – South Phase II
Can't Attend? Provide Feedback
Send your thoughts to:
References