We're proposing less than $150k to create over FIVE MILES of bike lanes during calendar year 2017.
These support Last Mile Connectivity to two MARTA rail stations, and to City Springs.
All for the cost of restriping, around $30k per mile.
———————————————————————————————————————————
TWO TENTHS OF ONE PERCENT OF THE 2018 BUDGET
This proposal offers the greatest Return On Investment of precious public transportation dollars you could leverage. 
Until the multi-million dollar proposed projects are built in the coming decade, doing this simple measure will bridge the gap that exists today. Where now there are no accommodation for bicycle facilities on these corridors, investing 2/10% of the FY 2018 budget is a wise choice.
Checkout this short video that highlights the opportunity, precedent in Sandy Springs for restriping lanes, and two local examples of lane restriping within the past year which created bike lanes. One is in Sandy Springs.
Restriping Supports City Council Priorities
These are the FY 2018 Sandy Springs City Council priorities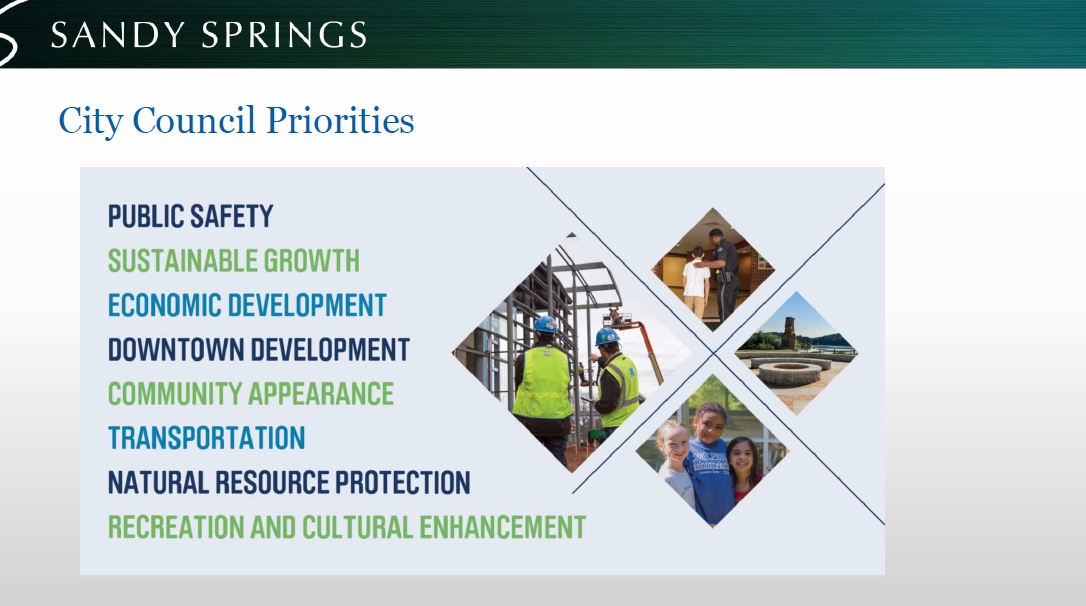 Public Safety: Add a safer place to separate persons on bicycles from motor vehicles. Calms traffic by narrowing lane widths.
Sustainable Growth: Offers reduction in CO2 emissions when persons ride their bicycles instead of being in a motor vehicle. One less car on the road offers reduction in traffic congestion.
Downtown Development: Bike Lanes on Sandy Springs Circle and Mt. Vernon Highway promote connectivity to City Springs, neighborhoods and adjacent employment and transit centers.
Community Appearance: 12+ foot-wide paved asphalt vehicle lanes, long accel & decel lanes designed exclusively to persons in privately owned motor vehicles degrade the appearance in a community. Bike Lanes are inviting and help create a sense of place.
Transportation. Bike Lanes follow the "Complete Streets" paradigm, which is spelled out in the Sandy Springs 2014 approved Bike/Ped/Trail Plan. A bicycle is legally defined in Georgia as a vehicle and is a legitimate means of human transport. Everyone talks about the need for alternative means of transportation.
Natural Resource Protection: Does not require any new construction.
Recreation: Gets folks outside for exercise. Increases public health.
Specific Proposals
Here's our three Quick Win Opportunities that we are proposing:
Quick Win #1: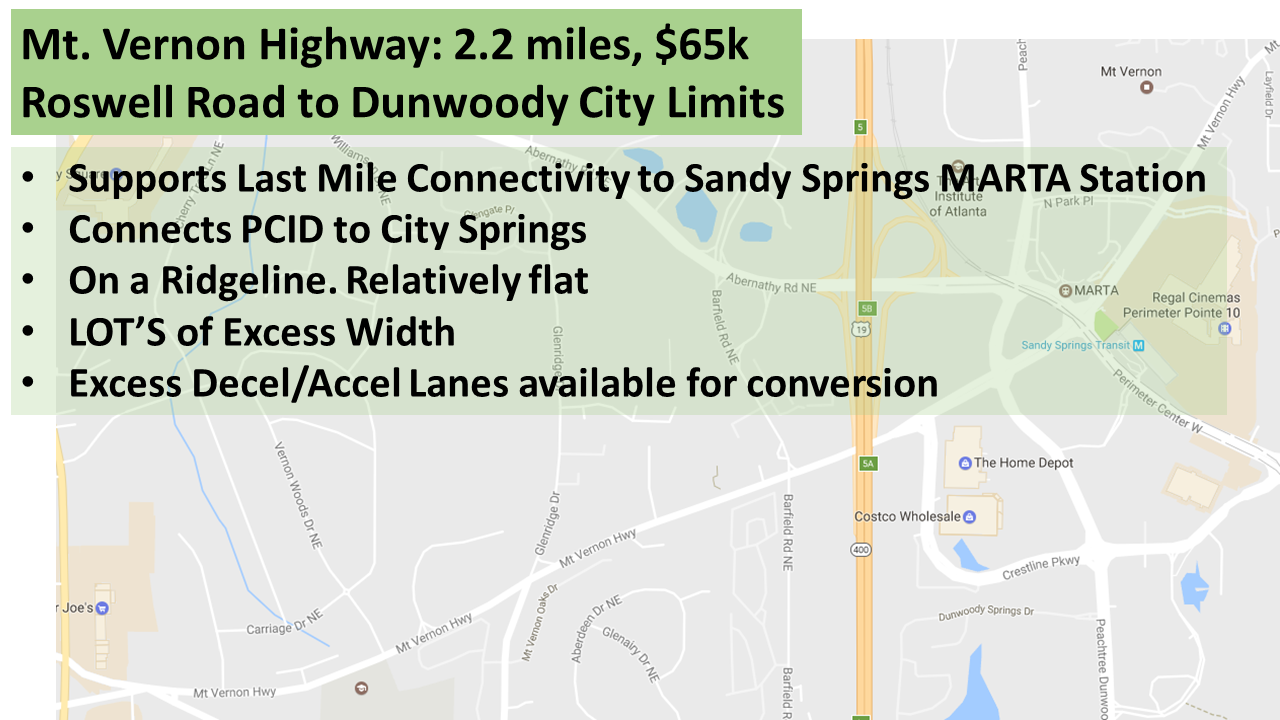 Quick Win #2: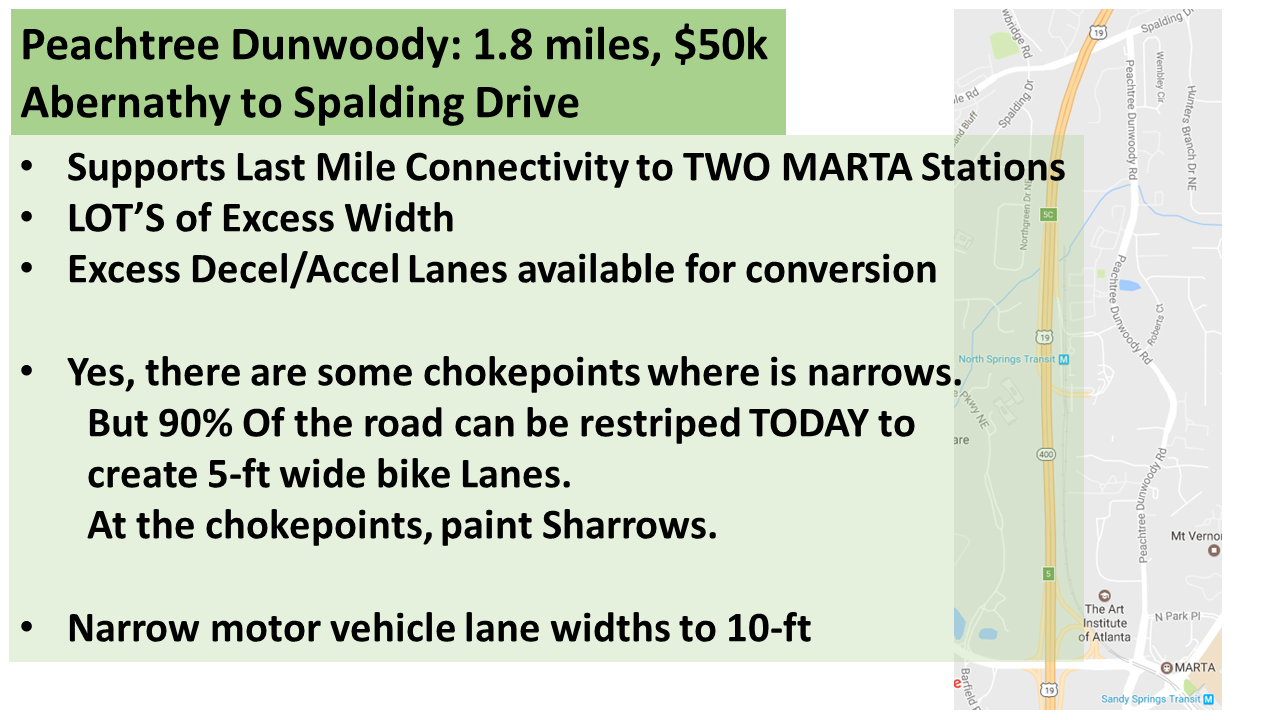 Quick Win #3: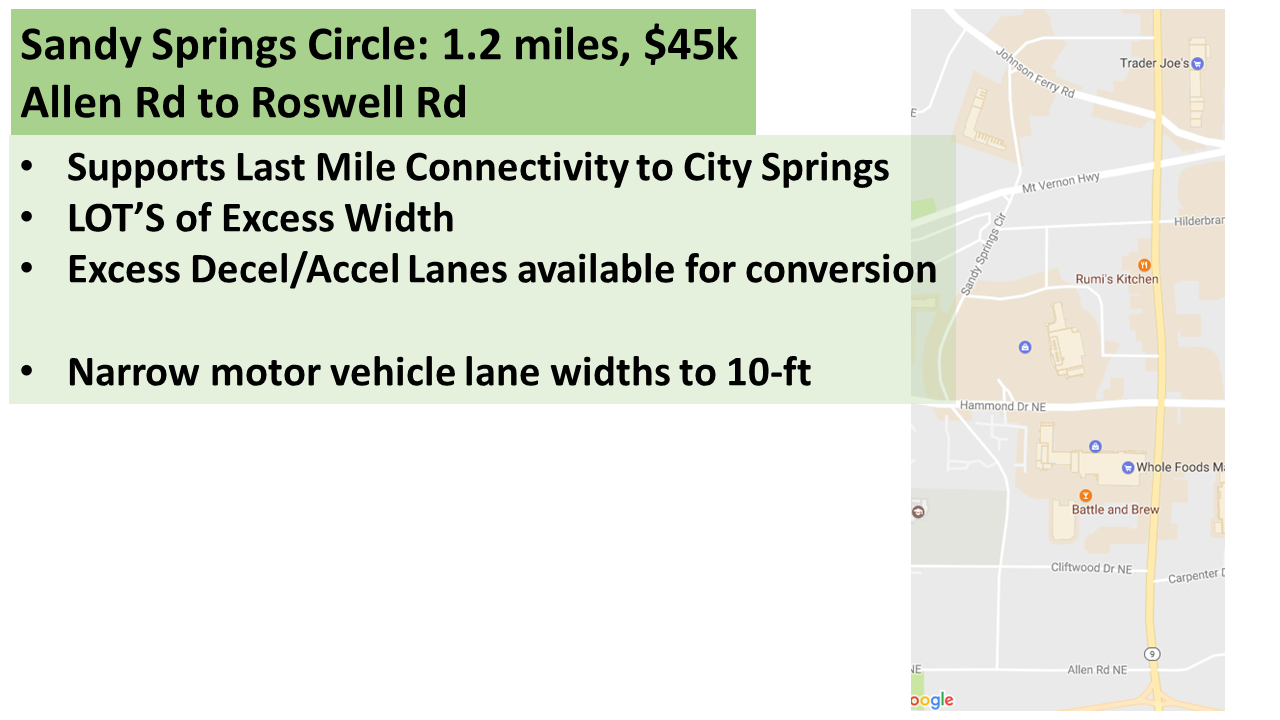 Call to Action
#1: Attend & speak at the City Council Public Hearings on the FY 2018 Budget on June 6th & June 20th.
The City Council is meeting to review the FY2018 budget on June 6. On June 20th the council is scheduled to approve. Both meetings are at 6 pm. There will be a "Public Hearing".  Arrive before the meeting, sign up to speak and hand it to the city clerk staff. You'll get approximately three minutes to speak your thoughts.
Sandy Springs City Hall: 7840 Roswell Road, Building 500.
Verify the meeting and download agenda items in advance HERE
#2: Send an email with your ask to the Mayor, Council and key City staff at:
And cc: [email protected]
Single click copy/paste email addresses:
[email protected]; [email protected]; [email protected]; [email protected]; [email protected]; [email protected]; [email protected]; [email protected]; [email protected]; [email protected]
#3: Follow-up after you have sent an email or have spoken. Directly ask the council to add this in the budget by the June 20th final public hearing and adoption.
References
Sandy Springs Proposed FY 2018 Budget here
FHWA Guideline on restriping existing roads for bike lanes is posted here
Additional reference on AASHTO Traffic Lane Narrowing or Reduction for bike lanes posted here