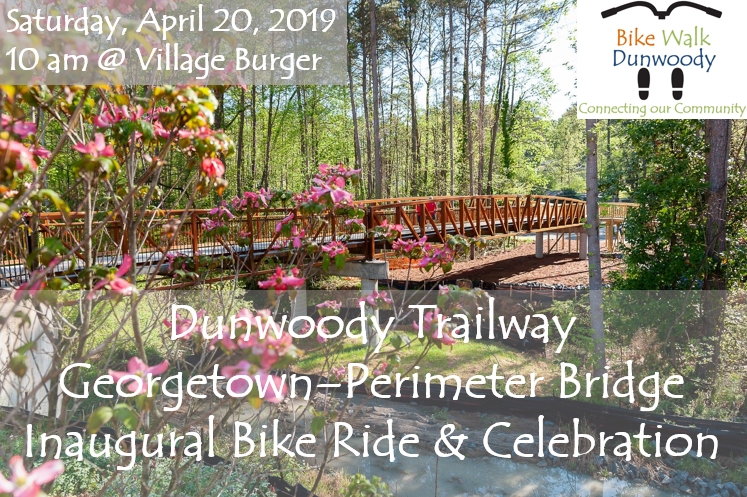 Let's celebrate another "tooth" in the network that connects the Georgetown residential to the Perimeter business districts! Join your Dunwoody & Perimeter area friends on this weekend morning for a celebratory 9.5 mile tour on bikes across our newest Trailway bridge!

We'll roll at a very easy & comfortable speed, heading over to Brook Run, taking the trail to Chamblee Dunwoody, cross the bridge and then loop back up to the Village. If you're looking for a cardio workout and to blow out those quads, this ain't gonna be it. We'll periodically stop along the way to talk about current & future plans for trail and bike facilities, too.

After the ride, enjoy lunch at Village Burger where riders can get frozen custard for only ONE dollar!
DETAILS
Saturday, April 20th 
9:45 am: Meet
10:00 am: Depart
Village Burger
1426 Dunwoody Village Pkwy, Dunwoody, GA 30338  

Although we will mostly choose lower-traffic streets and bike lanes, riders must be comfortable with riding on roads, and BE AT LEAST 18 YEARS OLD.* We'll all ride together, and guarantee that we'll not leave anyone behind, or riding alone.
Helmets required. Bring a full water bottle. Bikes should have multiple gears to accommodate riding uphill. — You don't want to use a heavy bike with only a couple of speeds designed to ride at the beach.
Register (Free) HERE
Facebook Event HERE
Disclaimer: Bicycling activities have inherent risks. Please exercise caution. If you participate in this ride, you agree to hold anyone affiliated with Bike Walk Dunwoody, ride leaders, and organizers of the ride harmless and indemnify them in case of injury or harm to your equipment.
* To request an age minimum exception, send an email with the ages, riding experience, accompanying adult and details to: bikewalkdunwoody@gmail.com